AITRICS to Participate in HIMSS USA 2023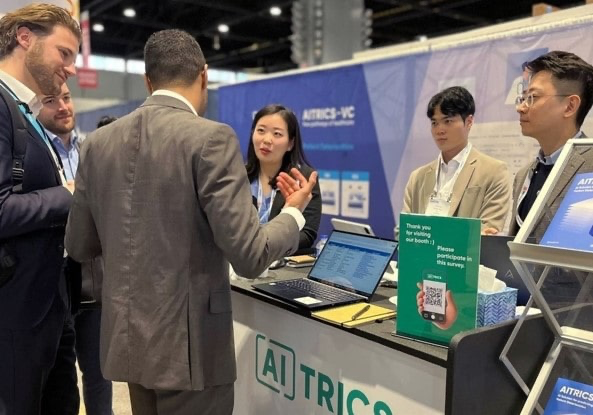 - Introducing an AI Solution for predicting patient deterioration, 'VitalCare'
- Second HIMSS USA Participation...Finding potential customers and establishing a foothold in the US market
[April 24, 2023] AITRICS (CEO Kwang joon Kim, Jin-gyu Yoo), a company specializing in artificial intelligence (AI) technology announced on 18th that it participated in the 'HIMSS Global Health Conference & Exhibition' (2023 HIMSS USA) held in Chicago from April 17 to 21.
The HIMSS Global Health Conference & Exhibition is the world's largest and most prestigious international event on medical information and communication technology organized by the Healthcare Information and Management Systems Society (HIMSS). Over 1,200 companies from around the world participated in this exhibition.
At this exhibition, AITRICS introduced its AITRICS-VC (referred to as 'VitalCare'), an AI solution for predicting patient deterioration. It delivered the clinical efficacy and advantages of VitalCare through the demonstrations. Also, AITRICS established a business networking foundation through active business discussions with global hospitals, healthcare institution stakeholders and potential customers.
Kwang-joon Kim, CEO of AITRICS said, "At HIMSS USA, participating for the second time following last year, it was an opportunity to inform the world of excellence of vital sign technology of AITRICS as well as VitalCare" adding, "In the future, AITRICS would continue to R&D and strive to upgrade its products so that VitalCare could be used in various medical institutions at home and abroad."
Meanwhile, VitalCare is an AI-based medical device that can predict ▲the risk of Sepsis in GW within 4 hours ▲the risk of Major Adverse Events (Mortality, Unexpected ICU Transfer, CPR) in GW within 6 hours ▲the risk of Mortality in ICU within 6 hours. AITRICS plans to enter the overseas market with the aim of obtaining FDA approval in the U.S. In addition, VitalCare was approved as the first medical device by the Ministry of Food and Drug Safety of Korea to predict sepsis last October. Currently, it is being actively introduced by various medical institutions in Korea.