AITRICS-Philips Korea Sign MOU to Develop AI-based Smart Intensive Care Management Solution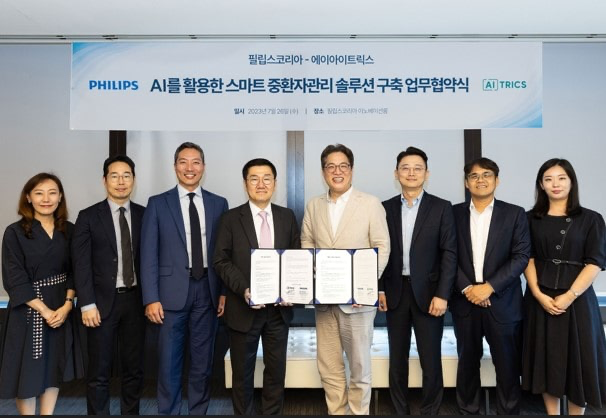 Real-time monitoring will provide better healthcare by predicting worsening patient conditions early
[July 31, 2023] AITRICS (CEO Kwang joon Kim), a company specializing in artificial intelligence (AI) technology announced on the 31st that it has signed a MOU with Philips Korea (CEO Jae-in Park) for the construction of a 'Smart Intensive Care Management Solution utilizing Medical AI.'
The MOU ceremony was held at the Philips Korea headquarters in Seoul on July 26. It was attended by key representatives from both sides, including Kwang joon Kim, CEO of AITRICS, Byung-eun Ahn, head of medical AI, Hun Cho, head of sales marketing, and Sun Kyeong Bang, strategy marketing manager, along with Jae-in Park, CEO of Philips Korea, Kyung-hwan Kim, head of the Health Systems Business Unit Solution, Eun-su Park manager, and Eun-young So manager.
Through this agreement, the two companies plan to actively seek opportunities for ▲joint marketing and sales of smart intensive care management using medical AI ▲Cooperation for a Korean-style smart intensive care management solution ▲expansion to domestic and global medical institutions.
As the Intensive Care Unit (ICU) is directly connected to patient's lives, it is essential to build a system that can predict danger early by monitoring minute changes in patient's vital signs in real time. Both companies aim to improve the workflow of medical staff in the ICU and increase the chances of patient survival through the development and construction of Clinical Decision Support System (CDSS) solutions.
Kwang-joon Kim, CEO of AITRICS said, "The field of medical AI is getting significant attention as an innovative technology that aids HCPs in diagnosing and deciding treatments for diseases faster. There has been a high demand in the clinical field for AI monitoring technology that can predict the risk factors for patient deterioration in the ICU in advance, helping medical teams to prepare." He added, "AITRICS's excellent AI technology and outstanding real-time monitoring systems of Philips will create a synergy effects to help both medical staff and patients in the medical field."
Jae-in Park, CEO of Philips Korea said, "We are delighted to sign a MOU with AITRICS, which is working hard for innovation in the field of medical AI." He added, "Philips will continue to work to create a healthy ecosystem for smart hospitals through collaboration with domestic companies with excellent technology."